Buy almost any 'smart' product and you'll almost certainly be forced to download an accompanying app in order to integrate said product within your home. Anyone who has already delved into the rabbit hole which is smart home and automation will quickly realise that each individual brand of product will have their own app or physical gateway which only works with their products – and it won't take long before the app launcher on your phone is cluttered with several of these often clunky and outdated apps.
Sure, you can negate this issue somewhat by sticking within the ecosystem of a single brand – meaning that hopefully all your smart things operate under a single phone app – however this removes any choice of freedom you have, leaving you stuck to the pricing and offerings of said brand, else go back to subjecting yourself to the menagerie which is the current smart-home product market.
So what's the solution?
Introducing Home Assistant, which describes itself as
Open source home automation that puts local control and privacy first. Powered by a worldwide community of tinkerers and DIY enthusiasts. Perfect to run on a Raspberry Pi or a local server.

Home Assistant homepage, August 2022
Home Assistant is the hero we need – in short, it's aim is to unify all your smart home products under one software package, and do away with needing several different apps and physical gateway just to get your smart products working together.
Imagine being able to buy any brand of smart home product, and have it work with your existing set up without the need for downloading another app, creating another online account, remembering another password, and giving your private data to yet another company – whilst Home Assistant isn't quite to 100% brand compatibility yet, the list of compatible products grows larger every update.
Although my personal set up is pretty small – I do have lights from Innr, lights and plugs from Tradfri, temperature/humidity/motion sensors from SONOFF, an LED strip from Tuya, an LG TV, and a couple of Google smart speakers – they all connect to my Home Assistant setup either though the router, or my SONOFF zigbee USB dongle required for the recommended Zigbee network.
This setup allows me to set up scenes and automations previously unavailable to me – and all without having to download a single app to my phone, tablet, or computer, as it can all work in the browser via a self-hosted webpage set up by the Home Assistant software.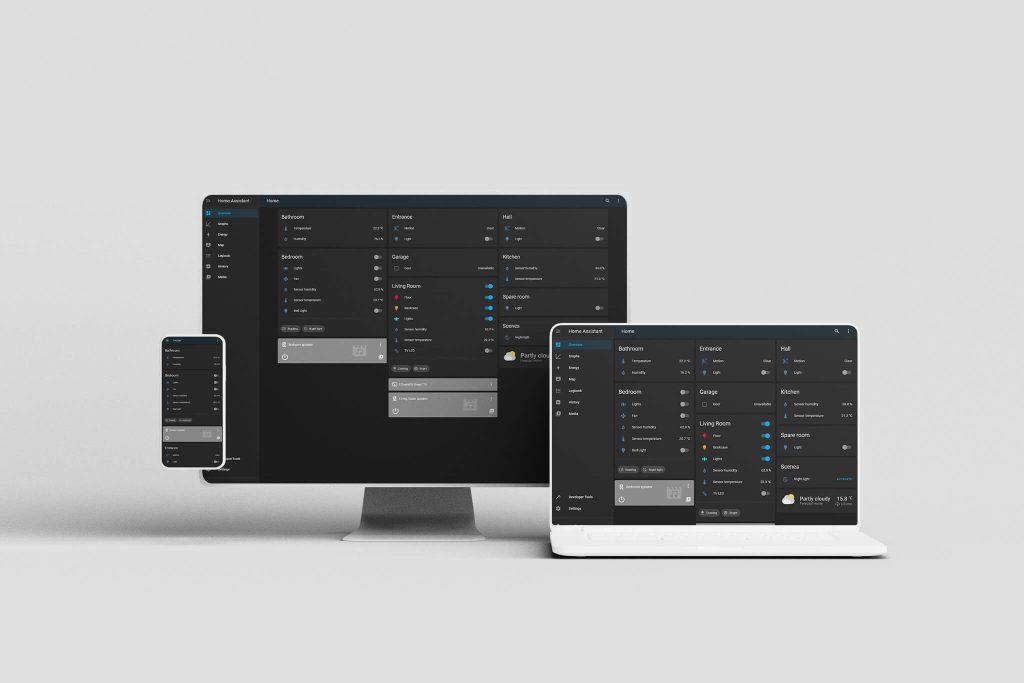 Wi-Fi vs Zigbee
Whilst one or two smart products on your Wi-Fi network may work fine – it is not a scalable solution. Your local wireless network can very quick become cluttered if too many devices are added to it, causing instability, slowdowns, and disconnections.
This is where Zigbee comes in. Zigbee is a wireless standard built for applications such as smart products – sending small amounts of data securely over short distances very efficiently. You'll need a Zigbee gateway on order to get started, and the SONOFF USB dongle is a great start.
Cloud vs Local
The other common problem with a lot of smart product ecosystems is the reliance on the "cloud" (Or internet, as we called it in before the 2000's…). Many products, rather than just sending the data across your local network, will ping a server before carrying out your request often resulting in a delay or outright failure to complete the request to communicate with your smart product. How would you like to connect your oven to WiFi before you can use it?
A reduction in usability, all in the name of collecting more of your data.
Running your own instance of Home Assistance and Zigbee network keeps all your data where it belongs, on your own local wireless networks, resulting in a much more private and responsive smart home experience. However for the products that absolutely won't work without a cloud connection (Such as Google Home speakers), Home Assistant can still support these by allowing the cloud connectivity to still work.
How to get started
Now there is a bit of a catch with Home Assistant – it does require a bit of technical knowledge to get set up. Knowing how to flash disk images, install operating systems, and a small amount of network knowledge is recommended before starting. You'll also need a dedicated machine to ask as a always-on server for the software (Something low spec such as a Raspberry Pi or that spare desktop laptop you have lying around is perfect!), but there are detailed installation instructions on the Home Assistant website.
Further support is also available on the official forums, on Reddit, and a number of other online locations – as detailed on the official Home Assistant help page.